Cummins 5.9L & 6.7L Cams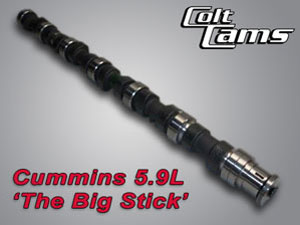 Colt Cams is proud to introduce our latest grinds for the Cummins 5.9 - 6.7L B series engine! We've worked long and hard to develop these great new profiles. We've dyno'ed some 50 different combinations of durations, lobe separation and installed centerlines to come up with the ultimate cam for your Cummins 5.9 - 6.7L. We have a large quantity of new cast blanks in stock ready for you! Our 5.9 - 6.7L Cummins cams are available in 6 stages. We are always willing to customize alternative grinds as well.
Stage 1: DISCONTINUED The best grind for fuel economy and bottom end torque! - Straight drop in
No clearance issues or springs required
Lobe separation, higher lift and longer duration, improves air flow by approximately 30%
Reduces turbo lag, faster spool up
Greatly improved throttle response
Approximately 25% reduction in smoke
100 – 150° EGT drop
1 – 3 MPG increased fuel economy on average
RPM: Idle – 2700
Write-up in Diesel Power Magazine
Stage 2: This is very similar to stage 1 but with a longer duration and lift on the exhaust side for engines with a slight restriction—or if you just want a little more exhaust flow.
Stage 3: Nicknamed the "

BIG STICK

". It has gained the most popularity. This cam delivers the strongest mid-range torque and H.P possible, but still has good bottom end and drivability. No mods are required, but we do recommend a set of springs if revving over 3000 rpm.
Average 2 – 3 MPG increase
30 – 35 % smoke decrease
Approximately 200° EGT drop
Good to 4000 rpm
At the bottom of this page are the specs for the stock and performance grinds. The secret to the outstanding performance of these cams is their ramp velocity and acceleration.

Stage 4: Cummins 5.9 -6.7.

Similar to the Cummins stage 3 but runs a larger EXH profile.

Great for max flow on large singles or compound turbo.
---
Click on images for a larger view
Note: Detail to
fillet radius.
Optional retainer plate.
(All cams tapped to accept
this on new blanks.)
Comparison of lobe
widths to Colt Cams.
Comparison of semi
finished chill cast blank
and finished cam.
---
Cummins 5.9 – 6.7 Cam Specs

ROCKER RATIOS:
12V - 1.75/1 INT/EXH
24V - INT 1.5/1 EXH 1.4/1

Prof. I.D.#

@ .050

ADV.

INT.

159°

0.235

102.0

Stock 2nd Generation 12V 1994-1998.5
EXH.

204°

0.263

INT.

159°

0.235

107.5

Stock 2nd Generation 24V 1998.5-2002
EXH.

206°

0.297

INT.

163°

0.237

98.5

Stock 24V C.R. 2003-2007
EXH.

191°

0.299

2007 - 2016 6.7L

Stage 1

INT.

175°

0.251

103.0

Hi Torque, bottom end fuel economy cam.
C.332.S
EXH.

206°

0.297

Stage 2

INT.

175°

0.251

104.0

New torquer cam. Better exhaust flow and better fuel economy.
C.341.S
EXH.

210°

0.307

$375.00 USD (regrind price).

Stage 3

INT.

181°

0.280

106.0

"The Big Stick".

Our most popular drop in cam. Best for all round' power.
C.343.S
EXH.

210°

0.307

$425.00 USD (regrind price), $649.00 USD new cast blank.

Stage 4

INT.

181°

0.280

107.5

Straight drop in, good to 4400 rpm.
C.346.S
EXH.

218°

0.323

$699.00 USD, new cast blank.

Stage 4.5

INT.
189°
0.306
107
Valve clearance may be required, 1800-4700 rpm.
C.322.S
EXH.
218°
0.323
(Not recommended for towing) $749 USD, new cast blank.

Stage 5

INT.

199°

0.296

108

Valve clearance required, good to 5000 rpm.
C.349.S
EXH.

218°

0.323

$749.00 USD, new cast blank.

Stage 5.5

INT.
218°
0.323
108
Valve clearance required, good to 5500 rpm.
C.797.S
EXH.
228°
0.329
$825 USD, new cast blank.

Stage 6

INT.

228°

0.329

108.5

Valve clearance required. Full race / sled pull, good to 6500 rpm.
C.784.S
EXH.

244°

0.338

$899.00 USD, new cast blank.

NOTE!!!!! When we say our camshaft is a straight drop in, we mean: In almost all cases.
However, due to many contributing variances in an engine: heads planed, block decked, valve recession etc... any cam including stock, should always be checked for clearance before start up!

NOW AVALIABLE: COLT CAM'S OWN LINE OF NEW TAPPETS, ONLY $160.00 USD A SET!


---

Valve lash all grinds: INT: .010" EXH .020" cold.

Follow Cummins installation instructions, use adequate amounts of assembly lube.
Retainer torque 44 ft lbs – use red loctite.
When using our retainer, clearance is required on C.R.

IMPORTANT NOTES:

C.R. cams cannot grind to stage 3, only to 1 and 2. You must use 24V 2nd core or new cast blank cams for anything over stage 2 grinds.

CAUTION! IF USING AFTERMARKET CONNECTING RODS,
EXTRA CLEARANCE MAY BE REQUIRED ON CAM CORE!

---

When sending us your camshaft(s),
please remove the gear(s) before shipping, and
we highly recommend not to ship your camshaft in tubes!


BREAK IN PROCEDURE

Cam Lube on all lobes, lifter faces and oil pump gears.
Oil all bearing journals and lifter barrels.
Always turn engine over by hand before starting, check for clearances and proper timing location.
Fire up to 1800 – 2000 rpm. for 18 – 20 minutes.

Note: Most oil companies have taken out a percentage of additives that are meant for anti-scuffing for break in on flat tappet cams, so please ask your local auto parts professional for the best zinc additive they have and add it to your oil before you fire up your engine for the first time. (We prefer ZDD Plus.)